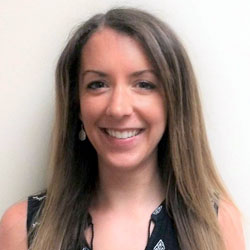 ​Why did you choose this profession?
I chose physical therapy by combining my love for science, biology and the human body, my love of being physically active, and love of interacting with people. I actually applied to the Upstate Medical University Physical Therapy program when I was in high school!
What do you believe is your best quality as a practitioner?
I am sincere and caring and will always take time to truly listen to you. I will always greet you with a smile and love to make treatment sessions creative and fun!
Interests and Hobbies?
I love running! I first started on the Outdoor Track team in 7th grade and have been running on indoor track, outdoor track and cross country teams ever since. My most memorable race was the Division III Nationals Championship Cross Country race for Geneseo when I was in college. Now, I enjoy practicing and racing 5K's with the Syracuse Track Club. Look for me when you are out on the roads!
What do you find most interesting about your job?
I thrive off of constant variety! I love treating different areas of the body and people of all ages. I never know who my next patient will be and enjoy the challenge of figuring out the reasons behind why someone is in pain or having difficulty with an activity. There is nothing more rewarding than helping someone get back to doing what they love!
Did you know?
I love heights! My favorite place to be is on top of a mountain hiking or skiing. My husband and I are working toward goals of becoming Adirondack 46'ers and hiking in all the National Parks.
Favorite Sports Teams?
The NY Giants!! I have been a dedicated Giants fan since they won the wild card game for a spot in the playoffs in 2007 and then went on to destroy the Patriots' undefeated season in the Super Bowl.
Favorite Food?
Pancakes, sweet potatoes and ice cream. I think I could live off of those 3 foods.