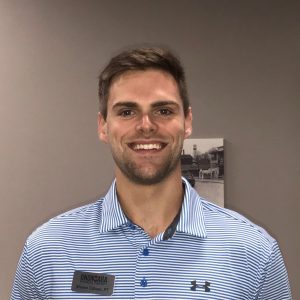 Why did you choose this profession?
My interests growing up had always revolved around health and fitness. With help from my family and high school guidance counselors, I decided to pursue a career in physical therapy so that I could assist individuals to return to activities they enjoy while promoting an active and healthy lifestyle. 
What are your best qualities as a professional?
My belief is that treating each patient presents an opportunity to learn something. Never settle for what you currently know, there's always something new to learn.
What do you find most compelling about your job?
Everyone is different. Everybody moves, reacts, and heals differently. This requires an individualized treatment approach and effective communication between the therapist and patient. It is incredibly rewarding when I am able to teach something to a patient about their body and it dramatically affects their condition and quality of life for the better.
Interests and Hobbies:
I love staying active outdoors. I enjoy camping, hiking, kayaking, running, snowboarding and playing sports like volleyball, basketball, and golf.
Did you know?
I played volleyball for Nazareth College.
Favorite Food?
Tacos
Favorite Sports Team?
Syracuse Orange. Go 'Cuse!