Technical Help: How to Prepare for your First Visit
Please make sure that other people in your home are not utilizing a streaming service (Netflix, Hulu, Disney+, etc). These services will use bandwidth and will affect the quality of your call. 

Please make sure that your pets are in a different area of your home when possible. We love all pets, but we do not want them interfering with your care.

Please ensure that your phone or computer is charged and your video feature is working. We are utilizing our eyes and our ears to provide you with the best possible care and we want to be sure that we are able to see you.  

Please make sure that there is lighting available. 

Give yourself room to move! We will ask you to perform different movements during your treatment session and we want to ensure that you are able to move back from the camera so we can get a better view of your movement patterns.

If your therapist has previously provided you with bands or you have other workout equipment available, have it accessible so we can instruct you using this equipment

Please dress inappropriate clothing. We ask all of our patients to wear comfortable clothing that you are able to move in, just like if you were coming into the clinic for treatment. 
Watch this instructional video by our Telemedicine portal provider
We get it, life is busy and these videos are great but you might panic just prior to your visit and forget the steps. It happens to the best of us. We recommended printing these instructions below and keeping them by your phone or computer before your first visit.
Just remember, always enable access to your microphone when prompted! Even if you end up with other difficulties, at least our staff can talk you through a few steps to troubleshoot.
What to Expect from your Telehealth Visit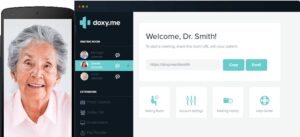 Once you enter your provider's waiting room, they will start a video call with you.

While you wait, place your camera on a stable surface and check the image to see if you have enough room to step back from the camera while still having your entire body visible on the screen. If you are unable to do this with either a phone or a laptop, try placing your device on the ground resting on a household item so that it faces slightly upward and try again. If you are unable to ensure to that your lower leg stays in the frame as well, that is even better!

You will have the opportunity to have a conversation with your provider about your symptoms, daily activities, and progress of your home exercise program, just like we would when you come into our office for care.

You will be asked to go through a series of movements, tests, and exercises. Your provider will assess these movements and provide you with education to improve movement performance. Your provider will also have you perform supervised exercises and make corrections on form. We will provide you with updated exercises as appropriate. After your session, your provider is able to send you updated home exercise programs or any other information necessary via email.
Watch a Sample Telemedicine Visit
Check Out Our Latest Blogs