Consumers add dietary supplements to their daily regimen for a variety of reasons, all of which support a healthier life with a body functioning at its optimal level. Whether you are looking to improve quality of sleep, manage symptoms of arthritis, boost your immunity or support the healing process after an injury or surgery, the right high-quality dietary supplements can help you achieve your goals. 
Not all supplements are created equally though and while most consumers are aware of that, the amount of options and range of products to choose from in the stores and online is overwhelming. It can be hard to feel confident that you've chosen the best quality and most appropriate product for you.
We've done the research for you on product quality and brand trustworthiness. We've chosen to partner with Thorne as our go-to for dietary supplements.
This new partnership allows us to extend a discount to you as well as some great interactive tools and home test kits designed to help you choose the best products for you.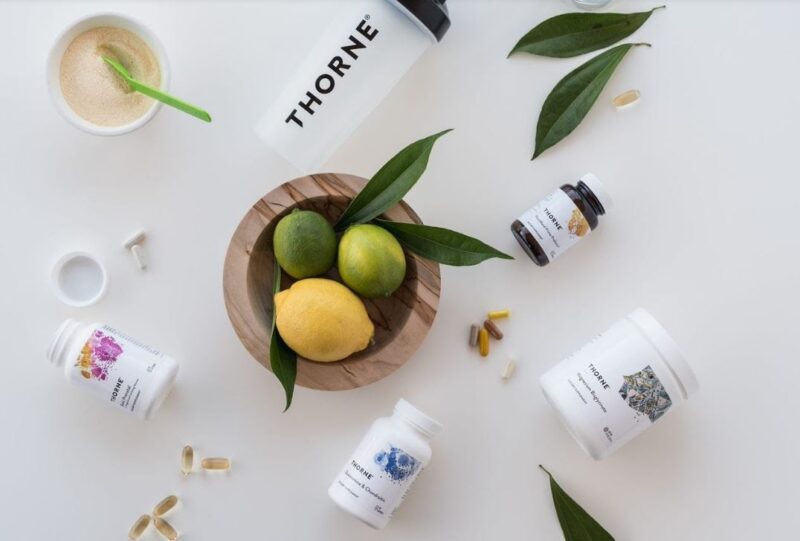 The most appropriate, high-quality supplements can help all of us better reach our health and nutritional goals. In pursuit of our mission to Inspire our Customers, Community and Team to Live, Work and Play Better, we set out on a search for a line of supplements that we could recommend to those that we care the most about.
We took this search seriously. Quality of product and the Trustworthiness of a brand is important to us. Satisfying our criteria as a brand we feel comfortable recommending, Thorne goes above and beyond industry requirements and carries an impressive array of quality distinctions.
What is Third-Party Certification?
Colleen Schutt
2021-04-12T16:36:19+00:00
Third-party certification is a key check-and-balance in the supplement industry. Third-Parties are separate entities that specialize in testing and attesting to the quality of products without producing products themselves. Supplements are not regulated by the FDA in the United States, which means that the manufacturer is responsible for ensuring that their products meet the label's claims. Some manufacturers perform testing themselves while others choose to use a third-party (organization separate from their own company)to take on the task for them. Having a neutral party perform the testing and provide the certification is an extra level of accountability and assurance for the consumer as well.
Therefore, as a consumer who is concerned about the quality of the ingredients in supplements that are put into your body, third-party certification is the largest stamp of approval and should provide the most peace of mind.
How can you determine if a Brand is Trustworthy?
Colleen Schutt
2021-04-12T16:37:05+00:00
It is important to research a company before purchasing the supplements that they produce. Find out what steps they take to ensure:
The quality of the ingredients
Supplements provide the daily recommended dose of the active ingredient
They test for purity and unwanted ingredients such as lead and pesticides
The product meets the label's claims