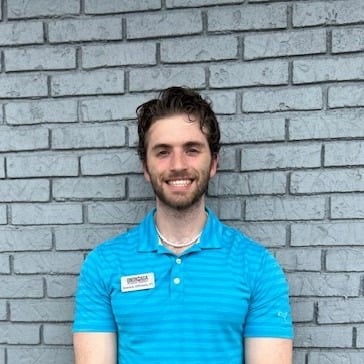 Why did you choose this profession?
I decided to become a physical therapist because of the incredible impact a mentor had on me when I first changed my major to kinesiology during my undergraduate education.  We had to participate in two internship experiences within the field of exercise science, and I chose my experiences in physical therapy.  Seeing the way my mentor could leverage knowledge about movement, physiology, and exercise to help people improve their health was inspiring.  Combining that with the ability to spend extended time with all patients and getting to know them as people was enough to convince me that I was meant for a career in physical therapy.

What is your best quality as a professional?
I think my best quality as a professional is my compassion.  I take it upon myself to understand each patient at an individual level in order to best grasp their current situation.  I know that each patient is more than just what they are being seen for and I try to bring that mindset into each interaction that I have.
Interests and hobbies?
I am a huge Philadelphia Eagles fan (Go Birds!) and I love following the NFL in general.  I truly enjoy going to the gym and lifting weights or participating in any type of exercise.  I am also a music aficionado, as I love discovering new music within various genres and making my own music when I have time!  My girlfriend and I also enjoy exploring new cities.  We have lived in Washington, D.C. and New York City, and we have also gone to Japan and stayed in Tokyo, Kyoto, and Osaka.
Did you know?
I changed my major during the first week of my junior year in college from business management to kinesiology.  While studying business, I found that I was not passionate about the material or the lifestyle that came with it.  This decision completely altered the trajectory of my life, and it was the scariest, but most rewarding decision I've ever made!
What do you find most compelling about your job?
The most compelling aspect of my job is the ability to solve problems every single day.  I love the opportunity I have to think and challenge myself with each patient.  Fitting together evidence, experience, and a patients' unique perspective like puzzle pieces in order to work toward a common goal is quite rewarding.
What are some of your Favorites?
Sports team: Philadelphia Eagles
Athlete: Brian Dawkins
Food: Spaghetti and Meatballs (homemade of course)
TV Show: Dexter
Hobbies: Weightlifting, making music
What are you doing in the Community?
During my final clinical experience as a student, I decided to start a pro-bono physical therapy clinic that could serve those who are less fortunate in the greater Syracuse area.  This clinic now runs every Wednesday evening from 5-7pm at the Poverello Health Center downtown, during which time I and other clinician-volunteers treat patients.  I am the director of Physical Therapy services and I take great pride in being able to help the underserved members of our community through the provision of physical therapy services.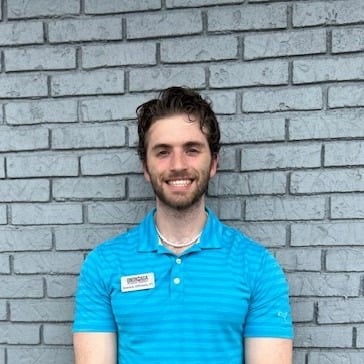 Meet Dominic and his family