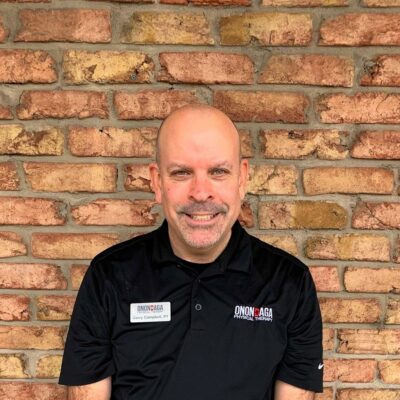 Why did you choose this profession?
I went into this field because I feel I can help people lead better, more functional lives just as doctors did for me in high school when I suffered from severe kyphosis of the spine.
Interests:
Professionally, I enjoy treating patients with musculoskeletal sports related injuries. The shoulder is my favorite joint to treat because it has so many different ranges of motion. I am also interested in teaching clinical skills to PT Students.
Personally, I love to golf and spend time on the St. Lawrence River. I am an avid SU Sports Fan.
Did you know?
As a young man, I was diagnosed with severe kyphosis and had to wear a Milwaukee brace throughout high school.
Favorite TV Show?
Modern Family
Community Involvement?
I belong to Masonic Lodge #950. We do many charitable events throughout the year including raising money for baskets of food for needy families at Easter, Toys for Kids; a program where we deliver toys and bikes to children through Peace, Inc, and a Safety ID program where we supply ID's and CD's to families which provides them with a source of identification in the event a person ever came up missing.
What do you believe is your best quality as a practitioner?
My compassion and enthusiasm! Listening to people's complaints and concerns and taking them into consideration all while trying to help them achieve the goals they set for themselves.