Exercise is important for building lean muscle but it is only a piece of the whole.  What you eat and put into your body is largely responsible for your overall health.  Our society has made it easy to reach for fast, cheap, processed foods that are neither good for our body or long-term health.  Even the beverages we are consuming are loaded with sugar and fat that can consume ⅓ of our daily allotted calories.  There are also more healthy options offered now than ever that can help all of us fit healthier options into our diet. Take a look at this list and choose some of these foods to add into your diet.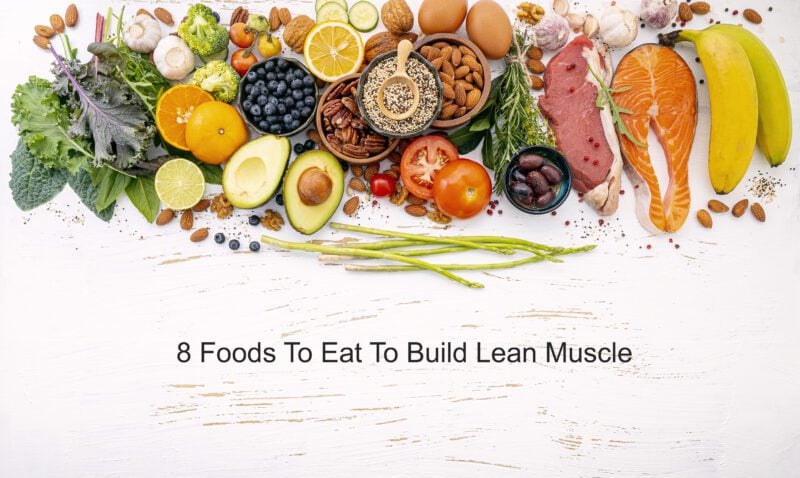 Looking to build more lean muscle mass? These 8 foods are some of the top-rated foods to help you build muscle and keep you lean while providing your body with the valuable nutrients it needs to function properly.  
Eggs

 High in protein and essential B vitamins that contribute to energy production.  Eggs also contain amino acids and are especially high in one particular amino acid, called leucine that is important for muscle gain.

Salmon

 3 oz. portion size of salmon contains 17 grams of protein and 3 grams of omega 3 fatty acids, which as we all know is not only great for building muscle but for brain health too.  Win-win here.

Chicken Breast

This is the go-to meal of just about every nutritionist or personal trainer out there.  Well, that is because it offers 26 grams of protein in 3 oz. portion.  It also contains generous amounts of niacin and B6 which are essential when you are an active person.

Greek Yogurt

 If you need a snack before bed, this should be your go-to, however, you should look for greek yogurt that contains full fat and low sugar.  Many yogurts that suggest they are low fat often have high amounts of sugar (and be sure to watch your portion size!)  

So why is greek yogurt on our list?  Dairy not only contains high-quality protein, but also a mixture of fast-digesting whey protein and slow-digesting casein protein and a healthy dose of probiotics that replenish that healthy gut bacteria that is important for optimal immune function, heart health, skin inflammation, mood, sleep, digestion, and even some research suggests, autoimmune diseases.  We would also recommend getting on a high-quality probiotic supplement to assist with these functions as well.

Nuts

 Nuts are the perfect snack.  They are easy to take on the go and contain a balance of proteins, fat, and fiber.  BUT and that is a big BUT, you need to watch your portion with nuts.  Just 1 oz. contains 150-170 calories.  These are high-quality calories but you can quickly inhale hundreds of calories if you are not careful with your portions.  Also, look for nuts with little to no salt in order to cut the sodium levels which can contribute to water retention.

Protein Powder

Protein powders are a great way to get the protein you need in a quick and easy way.  We suggest Thorne's Whey Protein Isolate which is NSF certified giving you the peace of mind that it contains nothing that a professional athlete wouldn't want in their own bodies.  It is also low in sugar and has a 5 star rating for taste and quality!

Chia Seeds

 These tiny seeds may seem unsubstantial but they are actually packed with omega 3 and omega 6 fatty acids, soluble fiber and antioxidants. They have been praised by the indigenous people of South America for their source of strength and energy.  And they are so incredibly easy to incorporate into your diet.  Add them to a smoothie, sprinkle them on peanut butter and banana toast, put them in your oatmeal….the list is endless. 

Edamame

One cup of frozen edamame provides around 17 grams of protein and 8 grams of fiber. It also contains large amounts of folate, vitamin K and manganese. In fact, folate may be important for optimal muscle mass and strength, particularly in the elderly.
It is important to understand what fuels our muscles and generates the lean definition you are looking for.  Giving your body a combination of proteins and carbohydrates is essential for fostering an environment where your muscles can repair and replenish.  

Physical therapists are educated medical professionals that look at the big picture of health and encourage their patients to engage in healthy eating habits.  Losing excess weight and nourishing the body with everything that it needs to work at its optimal level can help you recover from injury faster and put less stress on your bones and joints.  We are here to help. 
So you've got an ache or pain and know [...]